Jacqui and Howard's Intercessions for Easter 7, Sunday 24th May, 2020
Notices from our Churchwarden, Jeremy Sharp 24th May 2020
Hymns and Music for Easter 7 in Audio:
'All Hail the Power of Jesus Name', 'Alleluia, Sing to Jesus', 'St. Richard's Prayer' (all sung by choral scholars from St Martins-in-the-Fields),Shirley's request for Richard Morris: 'Guide Me O Thou Great Redeemer' by Treorchy Male Voice Choir and Margaret Edwards playing her own composition 'Meditation on the Cross' on her clarinet, which she composed for a Good Friday Service of Meditation at St Mary's Hemel Hempsted in 2009.
The Sanctuary Chicks, Chickens and Ducks!
23rd March 2020 Message from Rev Joachim Foot
23rd March 2020 Message from Rev Linda Whetter
"We were created by love, for love and so that we should love.
'Before I formed you in the womb, I knew you' is what God said to Jeremiah and these words apply to each of us.
We were planned for from all eternity.
None of us is a mere divine after thought.
None of us is an accident.
Before the foundation of the world God chose us to be his children in Jesus Christ.
We were loved, that is why we were created.
God created you because God loved you.
You do not therefore need to do anything to earn or deserve God's love.
You do not need to impress God so that God will love you.
God already loves you and God will love you for ever and ever.
There is nothing you can do that will make God love you less
There is nothing that you can do to make God love you more.
God's love for you is infinite, perfect and eternal.
And so, as we keep still in the presence of God, we know that we are loved,
That all we are, all we have, is a gift, freely and generously bestowed. "
Archbishop Desmond Tutu, from his introduction to An African Prayer Book.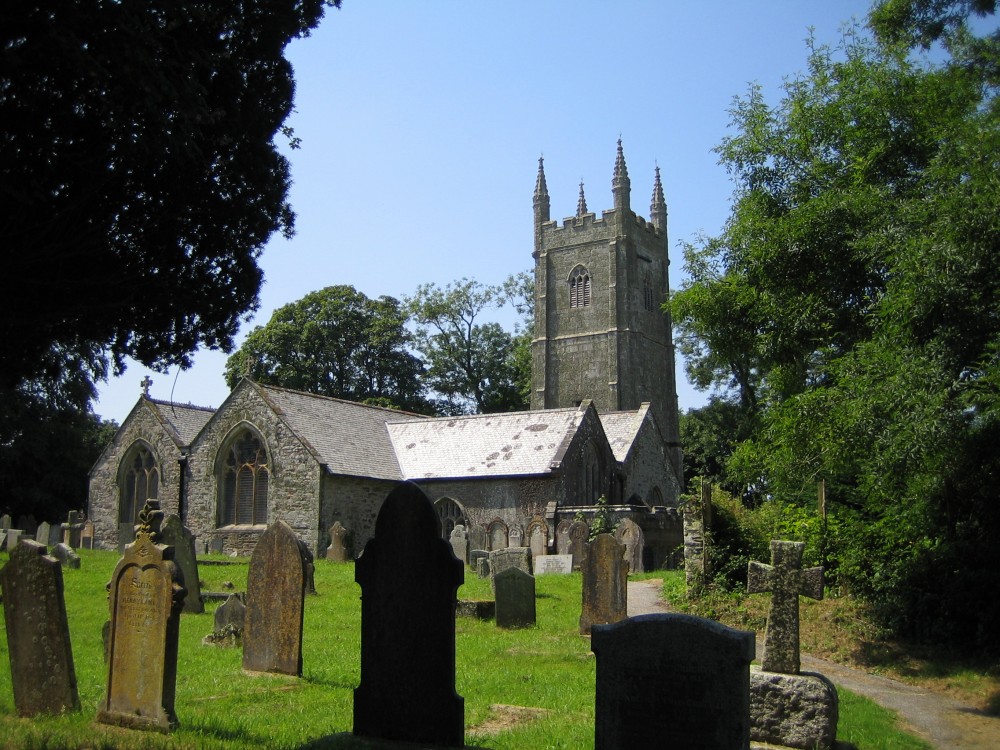 People have been worshipping in our beautiful parish church at least since the twelfth century. As is so often the case in Cornwall, it is dedicated to a local saint, Ladoca in this case, who is reputed to have lived at nearby Fentonladock.
The church is situated impressively on a hill above the village. The bulk of the building visible today dates from the fifteenth century. Having fallen into disrepair, the church was lavishly restored by the then rector Canon Richard Wise in 1864. The renowned Morris and Burne-Jones stained glass dates from this time.
Ladock is in the Anglican Diocese of Truro and in the Deanery of Powder. It is now part of the Probus Team of parishes, together with with St Erme, Probus and Grampound with Creed.
The church is usually kept unlocked during daylight hours throughout the year but is closed at the moment due to the Coronavirus shutdown.
The church has been at the centre of the parish community throughout its history and remains so to this day. Visitors are always most welcome at all services and events.
Ladock PCC Safeguarding Policy
Read Ladock Church Privacy Notice
Keep us good Lord under the shadow of your mercy, in this time of uncertainty and distress. Sustain and support the anxious and fearful, and lift up all who are brought low; that we may rejoice in your comfort, knowing that nothing can separate us from your love in Jesus Christ our Lord. Amen
And may God bless us all.